Click here to view original web page at au.int
Rwandan Genocide Facts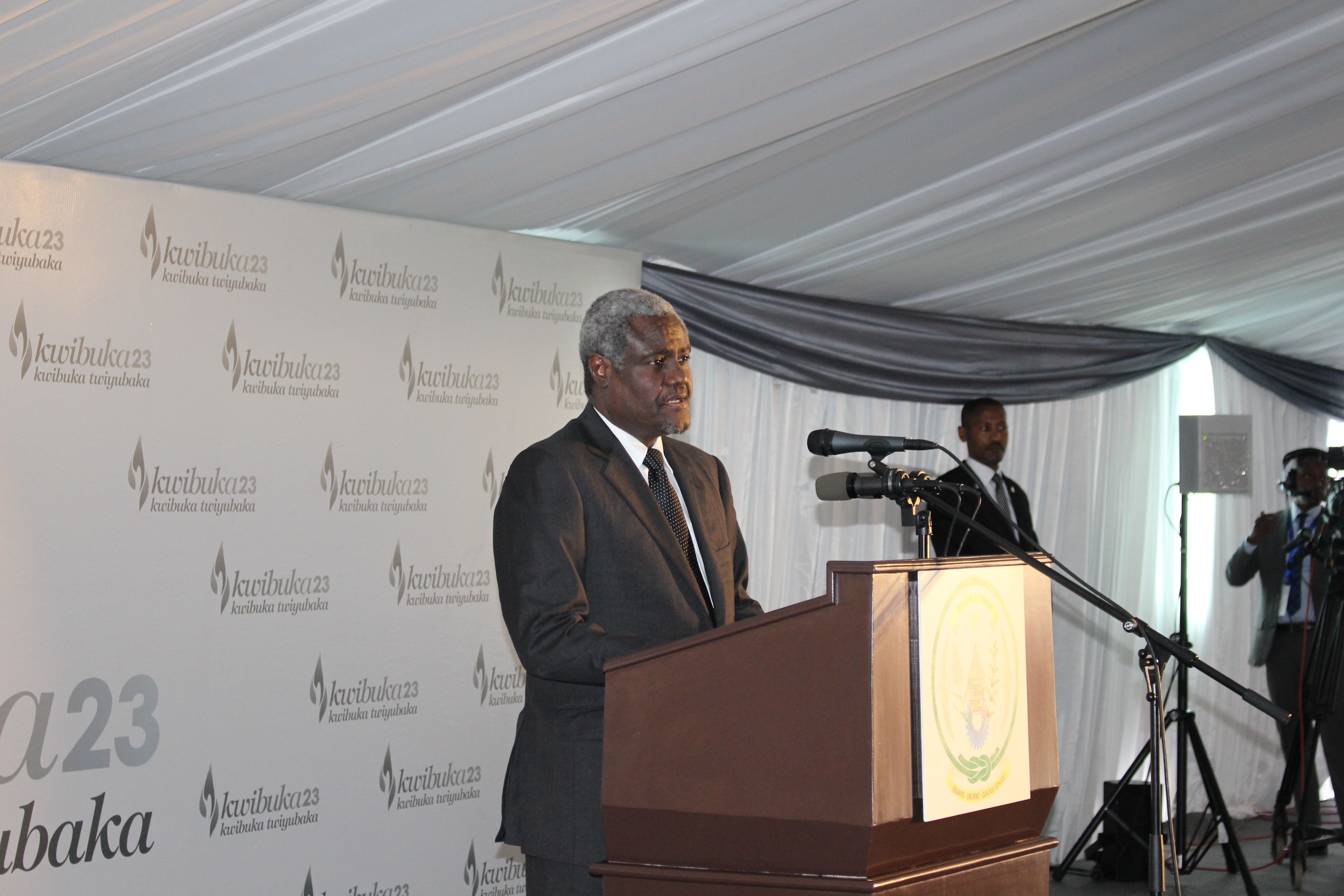 Rwanda, 7th April 2017: H.E Moussa Faki Mahamat commemorated the 23rd Anniversary of the Rwandan genocide together with the people and government of Rwanda at a different events organized for the day . The remembrance is annually comemorated on the 7th of April as a reaffirmation of the continents resolve to prevent and fight genocide. This years event was organized under the theme " Remember the Rwanda Genocide- Fight Genocide Ideology –Build on our Progress".
The Chairperson express his simpathy to the Dead and reaffairmed the fidelity of Africa to their spirit. "I would also like to swear, by my presence here, in the loudest voice to do everything possible to make sure that the horrors of the 1994 genocide do not recur on our African soil and that history must record this tragedy that must be taught to our children and grandchildren", he added.
The Chairperson said We will thus avoid oblivion, revisionism, trivialisation and negativism about the genocide of Tutsis by commemorating this Day throughout and always in Africa. (The full speech of the Chairperson is available on the AU Website http://www.au.int )
H.E. The President of Rwand Paul Kagame in his remarks emphasized on the importance of being united to have a strong country for all the people . "To remember is a must. And in remembering, I would like to tell genocide survivors that they are not alone. They lost family. But there's one family they didn't lose—their country. Rwanda is the family of survivors. It's the family of every Rwandan", he said.
The purpose of the commemoration is to pay tribute to the value of life and humanity, to awaken greater awarness about the ill effects of genocide, and to renew the collective commitment of Africans to protect and uphold fundamental human rights. The comemoration takes place as part of a global programme of activities and events named 'Kwibuka' meaning 'to remember' in Kinyarwanda.
As part of the Chairpersons visit to Rwanda a discussion held with H.E. Paul Kagame, President of the Republic of Rwanda, about the report on the proposed recommendation for the institutional reform of the AU. The report was issued on January of this year following the Assembly's decision to entrust the preparation of the study to the president. The institutional reform is focused on the identification of AU's institutional strength and shortcomings necessitated by changing regional and global dynamics.
For media inquiries contact:
Afrah M. Thabit | Information and Communication Directorate | African Union Commission | Cell:+251911200922| E-mail: [email protected] | Web: www.au.int |Addis Ababa | Ethiopia
For further information:
Directorate of Information and Communication | African Union Commission I E-mail: [email protected] I Website: www.au.int I Addis Ababa | Ethiopia
Follow us –Facebook: https://www.facebook.com/AfricanUnionCommissionTwitter - @_AfricanUnion
YouTube: https://www.youtube.com/AUCommission
Learn more at: http://www.au.int
Click here to view original web page at au.int